Scrubs. Sugar body scrub
Pleasant and helpful procedures for the skin are associated with handmade body scrubs. And if you choose the sugar body scrub, the shower or bath will present you new, sweet feelings. Why the cosmetics with sugar is so good? It has an excellent cleaning effect and have a beneficial effect on the saturation of the skin with nutrients.


Scrub cream with sugar - what is its uniqueness?
This cosmetic is with a gentle structure, but it is slightly larger compared with the saline scrub. Scrubs are prepared with the application of sugar, olive oil, coconut oil, bee wax, shea butter, grape seed oil. In other words, its content is one hundred percent natural.

The secret of the effectiveness of the scrub is very simply to explain. After applying the product, the skin is covered with water lipid layer, which prevents evaporation of moisture. In such circumstances, all components freely enter into the skin; they nourish, soften and smooth it. What is the role of the sugar? It has a peeling effect and starts regenerative processes in the skin cells.

Our handmade sugar scrubs are presented in several variations, each of which is unique and useful.


Cherry organic body scrub for sensitive and gentle cleansing;
Lemon scrub for rejuvenation, cleansing and toning;
Mango Scrub for the skin renewal, giving softness and silkiness.

Any Saules Fabrika body scrub is an elite cosmetic product made by hand by our caring masters; it is created to maintain a flawless looking of the skin. Allergic reactions are excluded, because we do not use sulfates and parabens. Our cosmetics consist of only natural and the best ingredients, so the scrub cream is suitable for all without exception.

Sweet peeling, new sensations, velvet skin - our sugar body scrub is capable of much!

Sugar body scrubs Saules Fabrika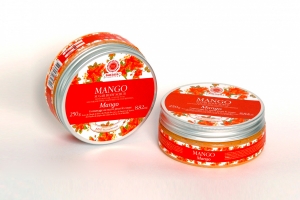 Mango
The scrub with a rich aroma of tropical fruit, which has a peeling and refreshing effect - that is what you need. Silky and soft leather, perfect and healthy after each usage. Get away the appearance of cellulite! The mango scrub with sugar basis will help to remove the "orange peel".

Weight: 250 gr.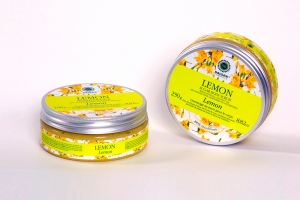 Lemon
The scrub with lemon aroma inspires and soothes, cleanses and tones the skin, prevents its premature ageing. Fresh feelings after each usage, natural care of every cell of the skin. Under the influence of sugar grains old cells are removed, skin is energized and gets healthy and well-groomed appearance.

Weight: 250 gr.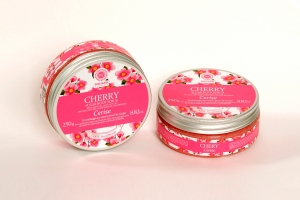 Cherry
The scrub is for gentle and delicate removal of old skin cells. Its natural ingredients remove toxins and give your skin nutrition and hydration. Air foam scrub exudes fresh scent of flowers of wild cherry. Cosmetics can be easily applied on the body; a remarkable effect can be seen after the first procedure.

Weight: 250 gr.