Mediterranean hair mask
Handmade cosmetics 100% natural is the best expression of love to your own hair. Afford this luxury: use only natural beauty care products. Hair will "repay" you with luxury brilliance and healthy shine. Special recommendation: use this Mediterranean mask if your hair is thin, brittle and dry.

Natural mask composition
Mediterranean hair mask contains only completely natural ingredients:


Forest honey;
Sicilian olive oil;
Ceylon cinnamon;
Citrus essential oil;
Vitamin E.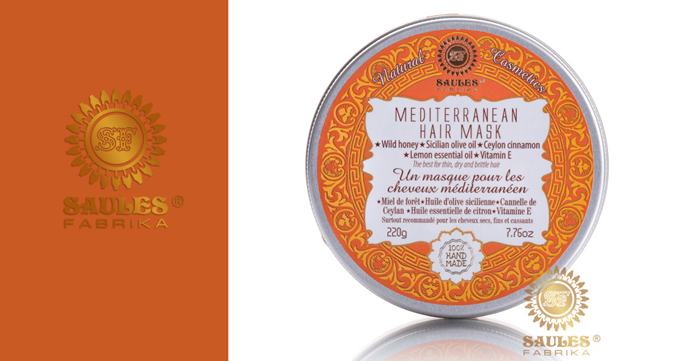 Mediterranean hair mask
The effectiveness of natural handmade cosmetics
Mediterranean mask is renowned for its properties beyond compare:


Nourishing from the very follicles.
Strengthening the hair shafts along the entire length.
Full moisturizing of hair, including split ends.

In addition, it is an excellent prevention of thinning hair.

The special properties of the mask components
Natural products are characterized by a comprehensive and effective action due to the combination of ingredients. They are perfectly selected.

Hair shaft becomes thick, strengthened along its entire length due to the presence forest honey. The product also nourishes hair and combats the problem of its early loss.

Sicilian olive oil gives beauty and healthy look to your hair. It is possible to eliminate dandruff and to stimulate hair intense growth thanks to the use of this substance. New hair pleases you with its softness and magic shine.

Adding Ceylon cinnamon into the mask is a wise decision, because it is an excellent natural antioxidant. The special properties of the substance make it possible to enhance the flow of blood. Hair is filled with life-refreshing energy and strength, shine and sparkle. The structure of each hair is restored at the cellular level, which gives the hair a healthy look.

The presence of lemon essential oil in the mask enables combating the hair loss (preventing this process) and eliminating signs of dandruff.

Vitamin E is another natural antioxidant that deeply nourishes the hair. Fabulously silky and voluminous hair is a dream of every woman. This effect can be achieved thanks to the 100% natural composition of the Mediterranean mask.

Warning before use
Despite the fact that the Mediterranean hair mask is completely natural product, an allergic reaction to honey or cinnamon may occur. Therefore, before using it on your hair, make sure that you do not have intolerance to certain components in the composition of the natural cosmetics.

Application procedure
The Mediterranean mask is applied to wet hair. It is necessary to take a little of the product from the jar and distribute evenly along all hair locks. Thereafter, put a cap for cosmetic procedures on, and a clean dry towel on top of it. Leave the mask for the effect for forty-five minutes, and then proceed to wash your hair. Rinse the product with warm running water. In order to achieve a perfect effect, use the suitable shampoo of Saules Fabrika. It is also natural and do not contain any harmful components.

The question with regard to the frequency of application of this natural Mediterranean handmade mask is answered by experts as follows: one time per week is sufficient.

The Mediterranean hair mask will certainly recover your dry and split ends. The cosmetics give strength to weak and thin hair. It will sparkle and look more voluminous and healthy.