Shower souffle
Do you like sweets? And what about dessert for your skin? Moreover, you do not need to worry about extra calories, because our body cosmetic brings only benefit and delight for your body. Gentle shower soufflé is what we propose to replace the classic gel.


Why soufflé?
This shower cosmetic with delicate cream texture is handmade. It consists of natural oils and the aloe extract, the main tasks of which are the nutrition, the softening, the moisturizing and the toning. Such shower soufflé is easily foaming and applying to the body and it gently cleanses the body from contamination. Moreover, it can be applied either on a sponge or straight on the body after foaming it in palms.


Shower Soufflé Saules Fabrika is the best choice for the beauty of your body!
Our Body Soufflé:

is manufactured from raw materials, which is subject to strict quality control;
has only natural ingredients; parabens and sulfates are excluded!
the mandatory ingredient is the aloe extract, which has a toning, revitalizing, moisturizing characteristics;
Shower Soufflé is suitable for all skin types.

The word "soufflé" means air and a delicious mass, so we care that our cream soap is to be fully conform to the declared name. Our range includes three luxurious flavors:


brash grapefruit;
appetizing cherry;
romantic strawberries with cream.

Each of them will put new colors into your life. The most common shower will become a spa treatment, after which the skin will always has flawless look. Our soufflé certainly becomes your favorite "dessert" due to the creamy texture, the fragrant foam, natural components and the incredibly gentle care of the body.

Shower souffle Saules Fabrika: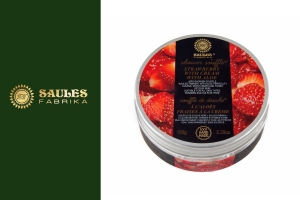 Strawberries with Cream
The luxurious dessert for the skin with an unusual flavor and the aloe extract. The soufflé normalizes metabolism, provides the skin with an adequate nutrition, restock minerals and moisture. Aloe will not allow premature ageing of the skin and the soft cream will give an exceptional comfort.

Weight: 150 gr.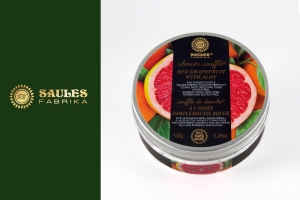 Grapefruit
Shower cream soufflé with the Aloe extract and the invigorating flavor of grapefruit perfectly tones the body. You will not find sulfates and parabens in these cosmetics. It contains only natural ingredients that have moisturizing and nourishing characteristics. The grapefruit soufflé can be used for all skin type.

Weight: 150 gr.