SPA mask for strengthening and growth of hair
SPA mask is ideal handmade natural cosmetics for the beauty and luxury of your hair. It will strengthen hair and activate the growth of curls. Attention! The use of masks is especially recommended for blondes!

Who else should buy this hair mask?
SPA mask for strengthening and growth of hair is a true "elixir" of its health. Among the indications are as follows:


Care for all hair types.
Restoration of dry and limp curls.
Elimination of damage and fragility.
Intensive care for split ends.
100% natural formula
All components of the SPA mask for strengthening and growth of hair are well-balanced:


Coconut oil, Shea butter oil;
Sicilian olive oil;
Northern sea buckthorn, aloe pomace;
Forest honey;
Ceylon cinnamon;
Vitamin E.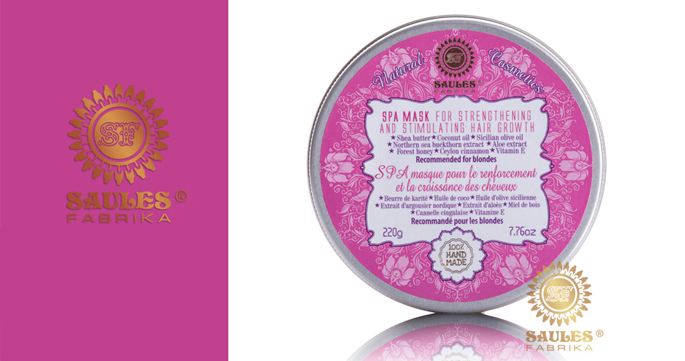 SPA mask for strengthening and growth of hair
Features of influence of components on curls
Benefits of Shea butter oil are revealed after the first application. Hair is filled with macro- and micronutrients to prevent further splitting of ends and hair loss.

Coconut oil in the composition facilitates to restore the damaged structure and split ends.

Sicilian olive oil is just called "liquid gold" for nothing. This is a valuable component that gives the curls the effect of brilliance and filled them with strength. Hair gets excellent protection from the effects of aggressive environmental factors after applying the SPA mask.

Sea buckthorn extract acts aiming at hair follicles. It improves their condition, which in turn allows for amazing shine of thick, longer hair.

Aloe extract helps to moisture your curls and the skin of your head. This has a positive effect on the recovery, growth and nourishment of hair. There is a mild stimulation of follicles.

The mask can effect on a stem of every hair due to forest honey. It gets stronger and becomes denser, thicker, and full of useful components.

Ceylon cinnamon has become famous as an excellent natural antioxidant. The ingredient is able to affect the flow of blood due to the special properties. Due to this, hair gets vital power, healthy shine and silky smooth structure. Hair grows much faster after regular application of the SPA mask.

Another natural antioxidant is vitamin E. Its presence in the composition of natural handmade cosmetics is necessary to ensure internal nourishment of the curls, an amazing hair volume and shine.

Features of use of the SPA mask for strengthening and growth of hair
Before a course of treatments with the hair SPA mask, it is necessary to verify the absence of an allergic reaction to its components, in particular, to honey, cinnamon. If everything is fine, then you may use the handmade products. It is quite easy!

The mask should be applied to wet hair and distributed over the entire length from root to ends evenly, with soft and careful movements. Once you have done this, put on a special cosmetic cap and then a dry towel on top of it. Rinse the head with warm water, trying to remove product residues from all curls, after 45 minutes, a maximum of an hour. Apply the shampoo from the Saules Fabrika collection, to improve the result.


Frequency of use of this SPA mask is once or twice a week.

The course of treatment with natural cosmetics will allow each time be surprised with the beauty and luxurious shine of hair that have been dyed or damaged.

Natural strength, natural beauty of your hair, elasticity and smoothness up to the very ends are a result which is guaranteed by a completely natural formula.